Cyclone 45 (Indoor Cycling)
This class is taught by: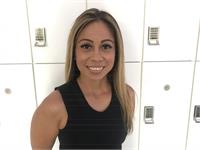 My journey started 3 yrs ago when my Doctor advised me that at 5'1 at 160 lbs I was overweight and needed to lose at least 20 lbs if I did not want to have health issues. I looked at him and thought what is he talking about a feel and look great I told myself !!!! he then proceeded to go over the health issues that could arise and asked me to try working out once a week he said, I agreed why not it can't hurt any:). So it all started there I went once a week and then worked my way up to 3 times a week I also changed the way I was eating or what I was eating the first couple of months where challenging I did not see a change however I was not gaining any weight and I felt like I could go up the stairs at work without being winded so I was happy with that. I had a workout buddy that pushed me to go the 3 times a week and then slowly made it to 5 days a week just for one hour(nothing crazy). By my 5th month I had lost around 6 lbs it was an accomplishment for me since I had never worked out in the past. Shortly after that the weight just started to come off with no problem, by my 10th month I had lost 42 lbs and I have been able to keep it off ever since. By this time I felt like I needed a little something different to take me to the next level and my good friend recommended me to Inferno hot Pilates and I said why not:) it was the one of the best decision I have made thus far, I have met great people here from all walks of life. That motivate me every single day that I am here and that push me to be my best self. The opportunity presented itself to take the teacher training and I thought this would be a great opportunity to motive and support someone else.